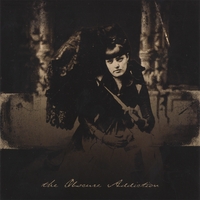 1 The Toast Of Broadway
2 Reality Isn't TV
3 Don't Justify The Nympho
4 The Portrait
5 The Circus Is Back In Town
6 Instrumental
7 The Obscure Addiction
8 The End
9 Intro Outro
10 Graveyard Dreams
11 Family Fued

BRIEF REVIEW:
I DON`T KNOW WHAT THE FUCK LINE DANCING IS... PROBABLY SOME ANCIENT-AGED GRANNY SHIT. WHICH IF SO, THEN A MASSACRE OF ALL THE PARTICIPANTS WOULD BE FINE CONSIDERING THEY ARE SENILE AND ABOUT TO DIE ANYWAYS. I MEAN, I EMBRACE POLITICAL CORRECTNESS AS MUCH AS THE NEXT LIBERAL ASSHAT SITTING RIGHT NEXT TO ME WHOM I'VE JUST SLIT THE THROAT OF, BUT STILL...
MASSACRING USELESSLY HANDICAPPED OLD FAGGOTS A FEW YEARS EARLIER BEFORE THEIR NATURAL DEMISE WOULD JUST MEAN A LOT MORE TAX DOLLARS SAVED TO ESTALBLISH MORE GOVERNMENT-PLANNED METHODONE CLINICS FOR `RECOVERING ADDICTS`LIKE MY SAD, FAGGOT SELF. I TRIED TO SAY NO TO DRUGS ALL THE TIME BUT THEY REFUSE TO LISTEN TO ME
.
INSTEAD, THEY RENDEZVOUS INSIDE A SYRINGE THAT AUTOMATICALLY POPS RIGHT INTO MY FUCKING VEIN AGAINST MY CONSENT EVERY SINGLE DAY. IT GETS SO BAD THAT I HAVE TO CALL THE COPS ON MY OWN HEROINE BATCH SOMETIMES.
IT'S NOT MY FAULT MY DRUG BASKET HAS A MIND OF ITS OWN OKAY?!?!?!?!
BUT STILL, I HAVE NO IDEA WHAT THE FUCK LINE DANCING IS. BUT I WISH IT WAS AS COOL AS HARDCORE DANCING.
EVERY TIME I ENTER THE PIT WITH MY FUCKING TWO-STEP SHIT I END UP TRIPPING THE CRAP OUT OF SOMEONE AND BREAKING HIS LIMBS. THAT SOMEONE IS OBVIOUSLY ME
. I DESPISE THE FACT THAT EVERY TIME I ATTEND
THE DEVIL WEARS FAGGOT
SHOW, I HAVE TO BE ESCOURTED OUT IN A FUCKING STRETCHER. LIKE WHAT THE HELL'S WRONG WITH MY ACROBATIC PERFORMANCE, SERIOUSLY?
ARE MY WINDMILLS NOT POWERFUL ENOUGH TO GENERATE 90,000 VOLTS OF ELECTRICITY THAT'S POTENTIALLY ABLE TO POWER A SMALL POST-COLONIAL COUNTRY IN AFRICA?
I'M SURE THEY NEED IT FOR THEIR MACHINES IN THE AIDS CLINICS HAHAHAHAHAHA THOSE GREEN-MONKEY FORNICATING APES.
I ONCE USED TO FEEL SORRY FOR AFRICANS SERIOUSLY ... UNTIL I REALIZED THAT IT'S FUTILE TO PITY NEANDERTHAL-LIKE ANIMALS THAT WEREN'T GENETICALLY ENGINEERED FOR INTELLIGENCE IN THE FIRST PLACE.

KEEP HUNTING AND GATHERING FOR THOSE BERRIES YOU FUCKING CAVE-DWELLING BARBARIANS AND KEEP KILLING EACH OTHER OUT OF SHEER COMPETITION!

MAYBE ONE DAY I'LL SEND THE FRENCH OR DUTCH MEN OVER TO YOUR NON-CIVILIZATIONS AND THEY`LL TEACH YOU SOME EUROPEAN`HIGH-CULTURE`, LIKE THIS SAID HOBBIE OF "LINE DANCING" WHICH THE FAILURE OF OBEDIENCE TO YOUR WHITE MASTERS WILL RESULT IN A MASSACRE, PRODUCING LOVELY MUSIC TO MY EARS THAT IS THIS BAND.

HOLY FUCKING SHIT SOMEONE TANGO WITH ME WHILE I PAINFULLY INFLICT DAMAGES ONTO MYSELF THROWING DOWN.