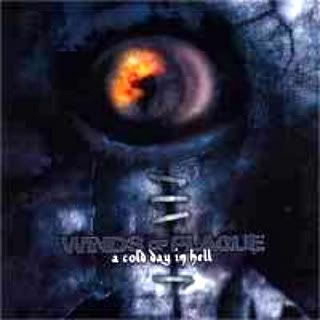 1. A Cold Day in Hell
BRIEF REVIEW:


SO FINALLY SOME OF YOU INBRED CHILD PRODIGIES HAVE LEARNED WHERE I ORIGINALLY PLAGIARIZED MY WEBSITE'S NAME FROM... NONE OTHER THAN WINDS OF PLAGUE'S VERY LAST TRACK ON THIS ALBUM! SO FUCKING WHAT? WHAT THE FUCK ARE YOU GOING TO DO ABOUT IT, YOU RADIOACTIVE AIDS-EMITTING PENIS ENVIERS? NOTHING, DUE TO THE BEAUTY OF MY HIDDEN PUSSY-ASS ANONYMITY? JUST AS I THOUGHT YOU FUCKING MEASURELESSLY GROTESQUE FAGGOTS!
HAHA RUNNING THIS WEBSITE'S A FUCKING BLAST AND WE'VE PROBABLY REACHED MORE THAN A YEAR OF ITS LIFESPAN... AND THE HATE MAIL I STILL MANAGE TO RECEIVE ON A DAILY BASIS EVER SINCE DAY ONE IS INNUMERABLY MORE THAN I AM ABLE TO COUNT TO WITH ALL MY FINGERS AND TOES COMBINED. WHY MUST YOU TURDS MATHEMATICALLY CHALLENGE ME? WHAT DO I LOOK LIKE TO YOU? A CHINKY PHD FROM SHANGHAI UNIVERSITY? GO GET ANOTHER EARTHQUAKE WHILE BEING INVADED BY THE MONGOLS ALL OVER AGAIN YOU FUNNY LOOKING MONGLOID FUCKMONKEYS!

YOU KNOW WHAT'S FUNNY? ALL YOU FAGGOTS RIOTING A STORM ON THE CHATBOX AS USUAL. IT'S LIKE I FUCKING THROW SOME BAIT ON THE GROUND AND ALL YOU INTERNET PITBULLS TEAR EACH OTHER APART OVER IT. WHAT THE FUCK IS THIS, A DOG POUND? ETHIOPIA? A DOG POUND IN ETHIOPIA? ALL OF THE ABOVE? I DON'T KNOW! GOD WHY ARE YOU SODOMIZING ME IN SUCH A POSITION THAT I NOW DOUBT MY SEXUALITY!?

GOD I ENVY THE ETHIOPIAN DOGS RAISED IN MORE HUMANE CONDITIONS THAN MOST OF THOSE MALNOURISHED STARVING NEGROIDS. DON'T GO KOFI ANNAN ON ME YOU OVERSENSITIVE HUMANITARIAN GIMPS! GO VOLUNTER BY SELLING COOKIES DOOR TO DOOR FOR UNICEF OR SOMETHING!

OH AND FUCK THE MIDDLE EAST TOO. GOD, I HATE ALL OF THE 30% OF THE WORLD THAT'S NOT COMPRISED OF PURE WATER. I AM MIGRATING UP TO GREENLAND WHERE I CAN ENGAGE IN MY FAIR SHARE OF INTERCOURSE WITHOUT ANIMAL RIGHTS PERSECUTION.