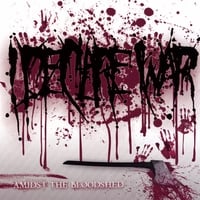 1 Amidst the Bloodshed
2 Whoop Dat Trick
3 Fuck Your Claim
4 Through the Eyes of the Killer
5 Asphyxiation
6 God Has No Place Within These Walls
7 Now You're Going to Be Famous
8 Frosted or Not (I Don't Care)
9 As They Burn Alive
10 Destroy the Weak
11 Nworb Ydoc
DOWNLOAD

BRIEF REVIEW:

SO APPARENTLY I MADE A BIG FAT DOODLY MISTAKE YESTERDAY! I MIXED THE PREVIOUSLY POSTED ALBUM WITH THIS ONE CONSIDERING I'VE UPLOADED BOTH AT THE SAME TIME! THE TECHNICAL MIXUP HAS BEEN FIXED NOW, WHICH MEANS IF YOU DOWNLOADED THE ALBUM YESTERDAY, YOU TECHNICALLY RECEIVED THIS ONE! SO IN ORDER TO COLLECT THEIR OTHER ONE, YOU NEED TO DOWNLOAD THE ALBUM BELOW THIS ONE ONCE AGAIN, WITH THE FIXED LINK! GOTTA LOVE THE DEDUCTIVE LOGIC!

OR IS THAT TOO FUCKING CONFUSING FOR YOUR BELOW-AVERAGE RETARD I.Q. FROM ALL THE METAL MUSIC PUMMELLING INTO YOUR BRAIN THE EQUIVALENT SIE OF A FUCKING WALNUT YOU FUCKING FAGGOT? DO YOU NEED SPECIAL ASSISTANCE IN A FUCKING WHEELCHAIR WHILE WEARING A SHINY TITANIUM HELMET? IF STUPIDITY WAS A FUCKING CRIME THEN BY NO DOUBT YOU'D BE CONSIDERED THE MOST WANTED INTERNATIONAL TERRORIST!
HOLY SHIT, THEN YOU MUST BE OSAMA BIN LADEN IN DISGUISE! I KNEW IT! I'M SO GOOD AT THIS DETECTIVE WORK THAT I CAN BE THE PRESIDENT OF THE FBI!

HOLY FUCK I AM SO SMART THAT I MAKE EVEN MYSELF APPEAR DUMB